Happy Belated Thanksgiving!!! We had a wonderful Thanksgiving weekend with Jason's family in Pennsylvania. We had not seen them in a very long time so it was so great to relax and spend some time together with them. It is about a 6 hour drive (with breaks) and pea did amazing! No crying, no whining, no complaints at all! Any shred of guilt I had from plopping a portable DVD player in front of him for 6 hours is looooooooong gone! Bless you, DVD player! hehe!
And, it is not Thanksgiving in our family unless someone ends up getting sick. For several years, Jason and I took turns getting sick. Last year was pea's first Thanksgiving so he was initiated with this family tradition. This year, pea and I both ended up with colds. Compared to years past, this year was nuthin'!
In spite of our sore throats and sniffles, our weekend was jam packed with fun. Unfortunately, the batteries in my camera died so I don't have very many good pictures. And, can you believe I did not have any extra batteries???? Sheez!! Of course, I have a gazillion batteries at home, but did I think to take some extra ones with us? Noooooooo. Oh well. Jason's sister and dad took some great pictures at the firehouse that they both promised to send me (HINT! HINT!) and our friend, Sally, took Eli's picture with Santa that she also promised to send me (HINT!!!).
So, here are a few token pictures from some of our adventures in PA.
Playing football with daddy.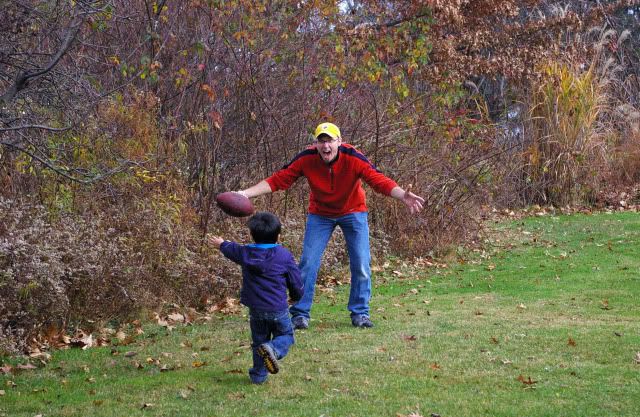 Playing on poppop's tractor thingy.
Riding the tractor at our friend, Mindy's house. Look at that view!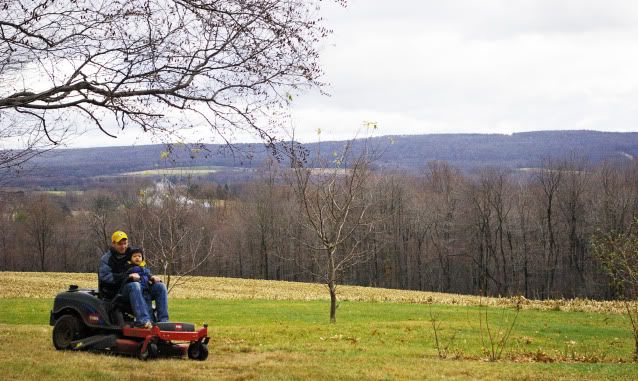 Waiting for Santa to arrive on the fire truck!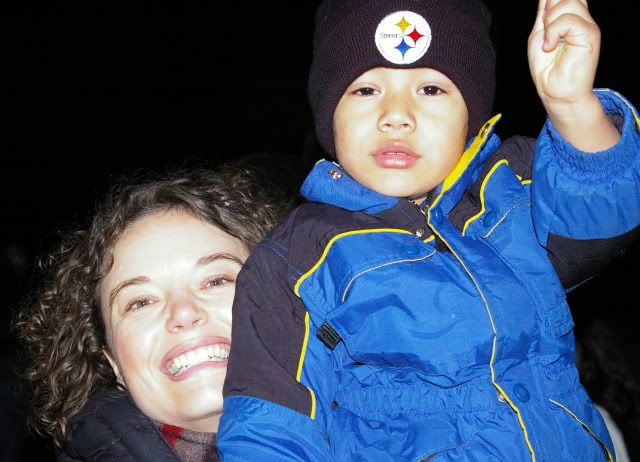 Visiting the fire house. Jason's dad is a volunteer firemen so he took pea and his cousins on a special tour of the firehouse. It was great!